About
Who was Oscar Levant?
One of the 20th century's
greatest wits.
A beloved talk-show guest, quiz show
panelist, radio, TV, and movie star
known for his wisecracking humor

and tell-all TV appearances
A taboo-breaking trailblazer
who was one of the first celebrities to speak
openly and outrageously about his mental
health on live TV
Called
"America's first publicly
dysfunctional celebrity"
by NPR
Appeared in
"An American in Paris"
alongside Gene Kelly and
Leslie Caron
A piano virtuoso, composer, and
America's highest-paid classical
concert star
The premier
interpreter of George
Gershwin's music
ONCE DUBBED "HOLLYWOOD'S FIRST CELEBRITY MELTDOWN,"
OSCAR LEVANT WAS DEMONIZED,
RIDICULED, BUT ALWAYS IN ON THE JOKE.
Famously public about his battles with mental health,
Oscar wasn't afraid to appear before audiences in

a flight of mania,
inconsolably depressed, or hyper-medicated. 
Some critics railed against his appearances as uncomfortable, profane, or even grotesque. But others hailed him for bringing a new level of candor to 
late-night and lessening
the stigma of mental illness.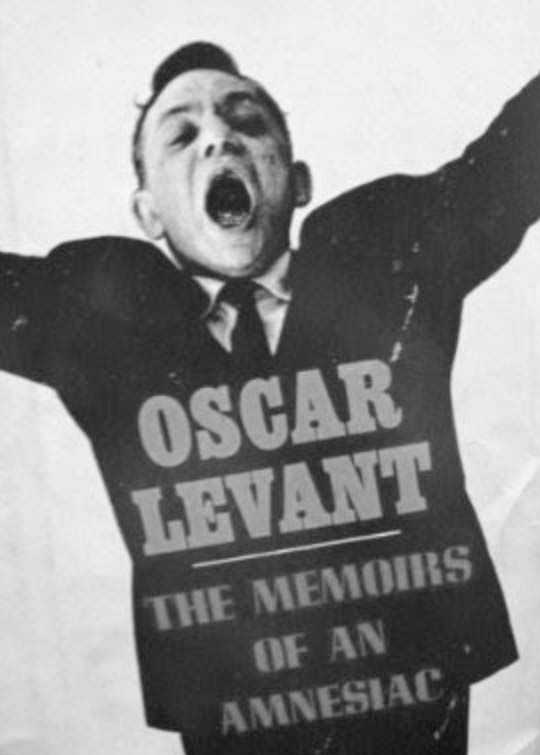 "Roses are red,
violets are blue,
I'm schizophrenic,
and so am I."
– Oscar Levant
If the art of conversation takes two to tango,
Oscar Levant was Jack Paar's
favorite dance partner.
Throughout the late 1950's and early 60's, Levant's wickedly funny barbs delighted audiences and mortified the censors on shows like What's My Line, The Celebrity Game and most famously on The Tonight Show with

Jack Paar

.
Oscar Levant had roles in 13 films, the most famous of which was "An American in Paris," where he played Gene Kelly's sidekick.
Before
Fallon, Letterman, Leno
or
Carson
There was
Jack Paar
The man who truly invented late-night television and The Tonight Show as we know it, Jack Paar distilled it into its essentials: two chairs,
a couple of microphones, and
authentic, unguarded
human conversation.
Celebrities from a variety of fields and disciplines didn't come on to hawk their latest movies or books,
they came to dish.
Paar variously called Levant "a man for whom living is 
a sideline," "my favorite 
far-outpatient," and "one of America's true geniuses."
It was live television. Millions tuned in on the edge

of their seats
eager to see what could—or inevitably would—happen live, especially when Paar dipped into his collection of regulars whose guest appearances always brought out
the best in him.
His favorite guest?
Character actor, pianist, and wild card

OSCAR LEVANT
From humble beginnings as a piano prodigy,
Oscar Levant first heard George Gershwin's music when he was 12 and became obsessed with it.
Eventually, the two became fast friends, but it was a fraught relationship. George wrote countless songs that immediately entered the popular canon, but Oscar penned only one:
"Blame It On My Youth."
Despite the professional jealousy, when George died unexpectedly of
a brain tumor in 1937,
Oscar pledged to keep 


his music alive.
He played Gershwin compositions 
in concert halls across America,
becoming the highest paid and most popular

pianist in the country.
George Gershwin's "Rhapsody in Blue" remains one of the best-selling albums in Columbia Music's history.
Now that you know
how we got here,
see how they all come together
on broadway now.